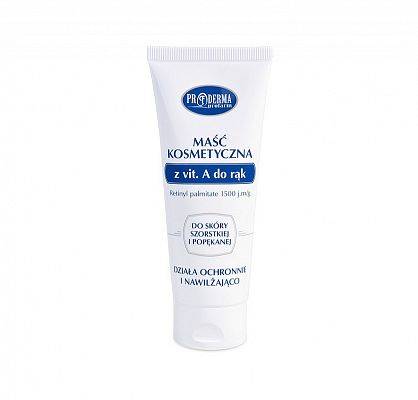 Cosmetic Hand Ointment
Cosmetic Hand Ointment with Vitamin A
Protects and moisturizes
Rough and damaged skin
Hand Cosmetic Ointment is prepared for rough and damaged hand skin treatment. Special ointment formula consists of appropriate amount of vitamin A and soothes irritations caused by bad weather conditions, regenerates and improves blood circulation. The ointment is easily absorbed, smoothens and strengthens skin, reduces its roughness, coarseness and cracks. Leaves on hands a protecting silicon layer in the form of an invisible "glove".

PROTECTS - soothes small red marks and effectively relieves irritations;
NOURISHES - completes vitamin A deficiency, has good effect on skin appearance;
SMOOTHENS - skin becomes smooth, regains its resilience.
Regular Ointment application guarantees renewed and smooth skin.
Buy
Additional information:
USAGE:
Apply a small amount of ointment and rub in with circular movements.
Customer information:
A cosmetic is a product used to cleanse, care for, protect and beautify the external parts of the body, i.e. the skin, hair, nails, lips, teeth, oral mucosa, external genitalia in order to keep them clean, in good condition, protect and give fragrance and proper care.
See how we care about quality
We use rigorous quality control standards and procedures to ensure the highest level of safety for all our products.