ACNE PRO-DERM Normalizing Tonic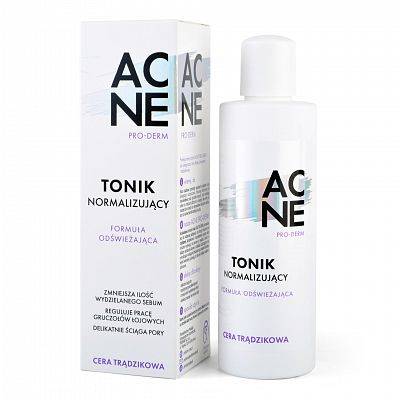 ACNE PRO-DERM Normalizing Tonic
Professional ACNE PRO-DERM tonic for the care of oily, combination and acne-prone skin.
Acne skin needs special products for its care and cleansing. The main problems are caused by improper functioning of sebaceous glands, which secrete sebum (in places where it is most, the skin glows more than in others) and improper exfoliation of epidermis, which causes dead cells to clog their mouths.
The alcohol-free formula of ACNE PRO-DERM tonic is designed for everyday care of oily, combination and acne-prone skin. It comprehensively and comprehensively cleanses the skin, visibly improving its appearance. Active substances with cleansing, normalizing and matting properties (bisabolol, Laminaria Saccharina algae, lavender oil) make the skin soft, moisturized and refreshed.
Buy ACNE PRO-DERM Normalizing Tonic
Additional information:
Effects on the skin:
gently tightens pores
regulates sebaceous glands
reduces sebum production
refreshes, tones and does not dry out the skin
Customer information:
A cosmetic is a product used to cleanse, care for, protect and beautify the external parts of the body, i.e. the skin, hair, nails, lips, teeth, oral mucosa, external genitalia in order to keep them clean, in good condition, protect and give fragrance and proper care.
See how we care about quality
We use rigorous quality control standards and procedures to ensure the highest level of safety for all our products.