ACNE PRO-DERM Normalizing Night Cream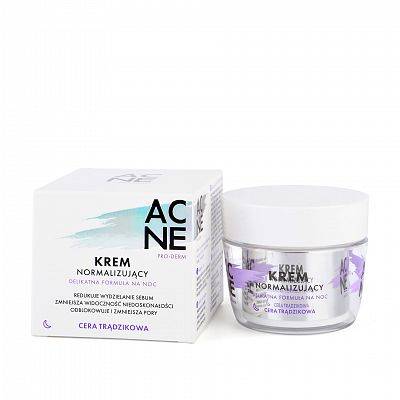 ACNE PRO-DERM Normalizing Night Cream
A daily face care cream for acne-prone, oily and combination skin.
The main problem of acne-prone skin is improper functioning of the sebaceous glands, which are additionally clogged at the mouth by exfoliating epidermal cells.
Our innovative formula of the ACNE PRO-DERM night cream is designed for the care of combination, oily and acneous skin. The cream gently exfoliates the epidermis and reduces sebum secretion. It reduces the tendency to the formation of new acne changes. As a result, the skin is smoothed and less rough, and the appearance of imperfections is reduced. Regular application of the cream unifies skin tone and visibly unblocks and reduces pores. Effects are visible the following morning: skin is smoother, refreshed and imperfections are less visible.
Buy Normalizing Night Cream ACNE PRO-DERM
Additional information:
Effects on the skin:
gently exfoliates the epidermis
reduces sebum production
reduces imperfections
visibly unblocks pores
Customer information:
A cosmetic is a product used to cleanse, care for, protect and beautify the external parts of the body, i.e. the skin, hair, nails, lips, teeth, oral mucosa, external genitalia in order to keep them clean, in good condition, protect and give fragrance and proper care.
See how we care about quality
We use rigorous quality control standards and procedures to ensure the highest level of safety for all our products.