ACNE PRO-DERM Spot Treatment Serum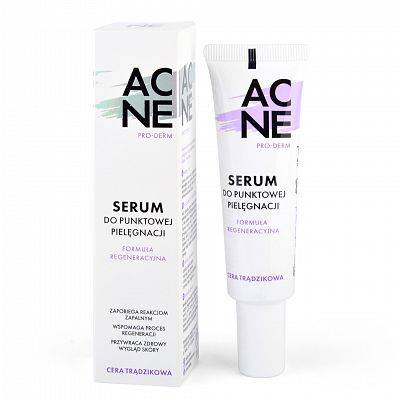 ACNE PRO-DERM Spot Treatment Serum
A cream serum for the spot treatment of acne, oily and combination skin.
The main problem of acne-prone skin is abnormal work of sebaceous glands and abnormal epidermis exfoliation, which causes dead cells to clog their mouths.
Our innovative formula of ACNE PRO-DERM cream spot serum targets acne lesions directly, reducing their visibility. It improves skin condition, restoring its healthy look day by day. Advanced formula is based on precisely selected ingredients (zinc, bisabolol, niacinamide) to prevent inflammatory reactions and support regeneration process.
Buy ACNE PRO-DERM Spot Treatment Serum
Additional information:
Effects on the skin:
prevents inflammatory reactions
supports the regeneration process
reduces the appearance of acne lesions
restores healthy skin appearance
Customer information:
A cosmetic is a product used to cleanse, care for, protect and beautify the external parts of the body, i.e. the skin, hair, nails, lips, teeth, oral mucosa, external genitalia in order to keep them clean, in good condition, protect and give fragrance and proper care.
See how we care about quality
We use rigorous quality control standards and procedures to ensure the highest level of safety for all our products.