ACNE PRO-DERM Cleansing Foam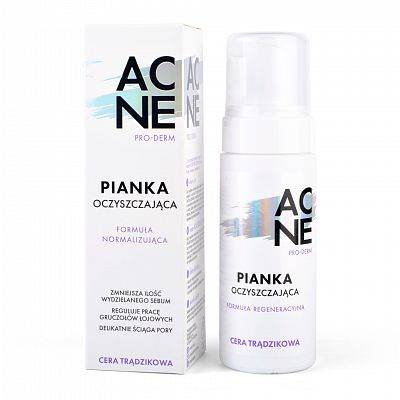 ACNE PRO-DERM Cleansing Foam
Cleansing face foam ACNE PRO-DERM for oily, combination and acne-prone skin.
Acne skin needs special products for its care and cleansing. Cleansing the face skin is not about nourishing or moisturising it but about effectively getting rid of impurities, excess sebum and bacteria present on the face. Only after the skin has been thoroughly cleansed can it be treated with products that will help to moisturise, regenerate and counteract acne.
Our innovative formula of ACNE PRO-DERM face wash was created for acne-prone skin that requires special care. The foam gently and effectively cleanses the skin from impurities without irritating it. It thoroughly removes toxins, gently tightens pores and regulates the work of glands.
Buy ACNE PRO-DERM Cleansing Foam
Additional information:
Effects on the skin:
tightens pores and regulates sebaceous glands
reduces sebum production
does not cause astringency, does not irritate, does not dry out
Customer information:
A cosmetic is a product used to cleanse, care for, protect and beautify the external parts of the body, i.e. the skin, hair, nails, lips, teeth, oral mucosa, external genitalia in order to keep them clean, in good condition, protect and give fragrance and proper care.
See how we care about quality
We use rigorous quality control standards and procedures to ensure the highest level of safety for all our products.