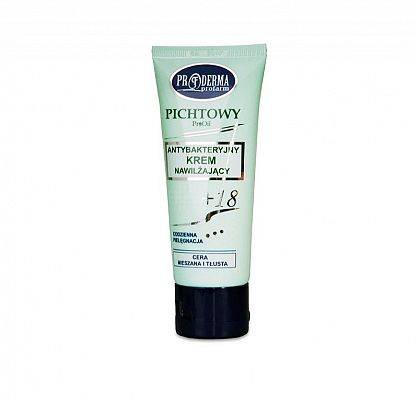 Antibacterial cream
New antibacterial moisturising cream
HEALTHY AND SMOOTH SKIN EFFECT
PRODERMA antibacterial cream is intended for everyday care of mixed and oily skin with tendency to blackheads, pimples and acne. It contains Siberian Fir Oil - Pinaceae Pro Oil, also called a fir ginseng. The cream is easily absorbed, perfectly cleans and moisturises the skin, soothes minor red sores. Prevents acne rash spots and normalises the moisture creation.
DEEP CLEANSING
Perfectly cleanses the skin, removes dirt, excessive serum and dead skin cells, unblocks the skin pores.

PERFECT REFRESHING AND TONING
Leaves the skin fresh and well moisturised.

Buy
Additional information:
OPTIMUM MOISTURISING
Quicker smoothing, removing lumps and pimples.
Medical tests have shown that every day use of Pinaceae Pro Oil actively moisturises and cleanses the skin.
Customer information:
A cosmetic is a product used to cleanse, care for, protect and beautify the external parts of the body, i.e. the skin, hair, nails, lips, teeth, oral mucosa, external genitalia in order to keep them clean, in good condition, protect and give fragrance and proper care.
See how we care about quality
We use rigorous quality control standards and procedures to ensure the highest level of safety for all our products.