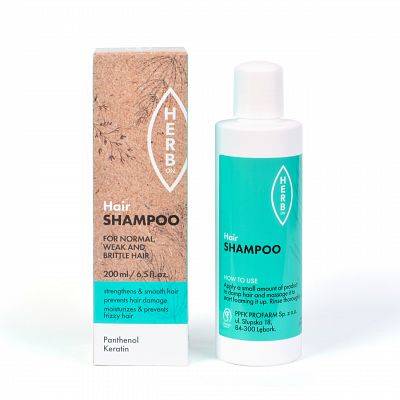 HERB ON Hair SHAMPOO
For normal, weak and brittle hair
Strengthens and smooth hair Prevents hair damage Moisturizes and prevents frizzy hair
A daily care shampoo suitable for normal and damaged hair as well as to counteract hair breakage. It contains not only an optimal blend of cleansing agents but also keratin and panthenol which additionally moisturise and strengthen hair follicles, preventing hair breakage..
Additional information:
Our Effects:
Thoroughly removes dirt

Strengthens hair

Prevents hair damage

Moisturizes and prevents frizzy hair

Smooth hair
Customer information:
A cosmetic is a product used to cleanse, care for, protect and beautify the external parts of the body, i.e. the skin, hair, nails, lips, teeth, oral mucosa, external genitalia in order to keep them clean, in good condition, protect and give fragrance and proper care.
See how we care about quality
We use rigorous quality control standards and procedures to ensure the highest level of safety for all our products.