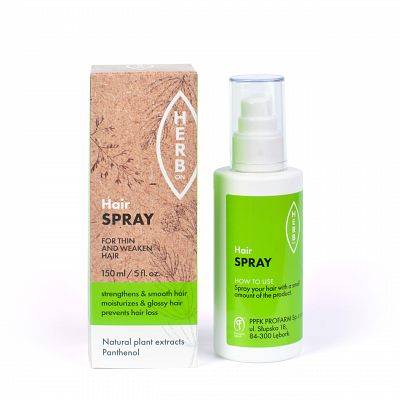 HERB ON Hair SPRAY
For thin and weaken hair.
Strengthens and smooth hair moisturizes and glossy hair prevents hair loss. Natural plant extract, Panthenol.
Hair spray made from herbal active ingredients. This hair spray is to be applied to hair and on the scalp. Suitable for damaged hair also to prevent hair breakage and hair shedding. It contains natural plant extracts which have been used for generations to improve hair condition (horsetail, nettle, birch, rosemary and horse chestnut). The hair is moisturized, strengthened and smooth without overburdening and greasy hair. The hair glosser is easily and quickly absorbed, making hair look glossy and healthy.
Additional information:
Our Effects:
Strengthens hair
Smooth and Glossy hair
Moisturizes hair
Without overburdening
Prevents hair loss
Customer information:
A cosmetic is a product used to cleanse, care for, protect and beautify the external parts of the body, i.e. the skin, hair, nails, lips, teeth, oral mucosa, external genitalia in order to keep them clean, in good condition, protect and give fragrance and proper care.
See how we care about quality
We use rigorous quality control standards and procedures to ensure the highest level of safety for all our products.