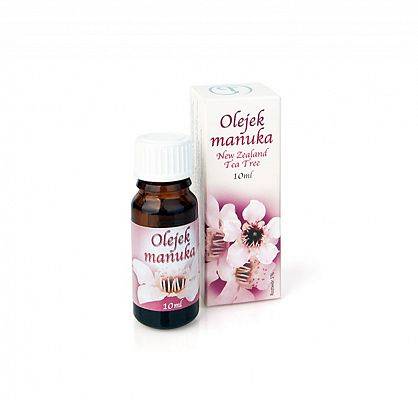 Manuka oil
Manuka oil - new zealand tea tree
SOOTHES THE EFFECTS OF INSECT BITES, ITCHING AND SUN BURNS
Manuka belongs to the Myrtaceae family, a family of Australian trees, which leaves are rich in ethereal oils. Manuka Oil has antiseptic effect and is widely used in healing of infections, for dressing wounds and cuts. It gives good effects in anti-acne treatments, reducing seborrhoea (particularly of head skin), dandruff, psoriasis, lichen and abscess. It is also a great, natural deodorant that reduces excessive perspiration.
Due to its anti-inflammatory and analgesic effect Manuka oil has applications in the therapies of rheumatic and arthritic pains. It is also used in muscle aches and back aches; it is also indispensable for bedsores. It is often used for massages of oversensitive muscles. It has good impact on nervous system disorders, lowers the temperature, alleviates stress, prevents headaches, and has helpful impact in allergies.
It is a perfect antiseptic both in the external (skin) infections as well as for the infections of the respiratory passages.

Applications:
Massage - overstrained mussels, bone, muscle and joints pains, bedsores, skin conditions;
Compress - acne, skin inflammation, cold sores, abscess, difficult to heal wounds, cuts, inflammation of sexual organs, seborrhoea, rheumatic pains, fractures, prevents infections and bites;
Inhalations - iupper respiratory infections, nervous system disorders, nervous tension
Category
Aromatherapy oils
Buy
See how we care about quality
We use rigorous quality control standards and procedures to ensure the highest level of safety for all our products.