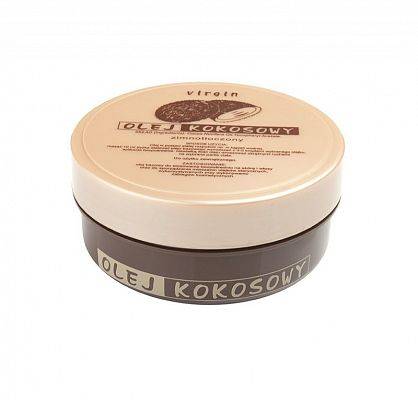 Coconut oil
Ingredients: Coconut Oil, Tocopheryl Acetate.
Virgin cold-pressed unrefined coconut oil (also called coconut butter) is extracted by cold-pressing the white pulp of the fruit of the coconut palm (Cocos Nucifera). At temperatures below 25°C it forms a white fatty mass. In its liquid form it is light yellow and has a similar viscosity to olive oil.
Uses and effects:
Coconut oil contains amazing moisturising and protective properties. It strengthens, smoothens and improves the elasticity of the skin. It easily absorbed, unblocks pores, helps to reduce wrinkles and, thanks to its anti-oxidant properties and the presence of Vitamin E, slows down aging of the skin. It is perfect for use as a face cream or body lotion. It is also worth patting it delicately onto the clean, dry or lightly moistened skin of the face, neck and shoulders. It may also be applied effectively all over the body, especially in places susceptible to cellulite and stretch marks.
Buy
Additional information:
Coconut oil may also be used as a hair mask or serum as it protects against the loss of protein, penetrates the structure of the hair and moisturises it properly. When applied to the scalp it strengthens hair roots, thereby preventing hair loss.
Customer information:
Massage oils: avocado, jojoba, grape seed, sweet almond are used to prepare mixtures of essential oils used in cosmetic treatments.
Massage: 10 ml (tablespoon) of base oil, which should be mixed with 3-5 drops of the chosen oil.
See how we care about quality
We use rigorous quality control standards and procedures to ensure the highest level of safety for all our products.